Digitalisation of the apparel industry has accelerated since the pandemic hit (Picture credit: Ger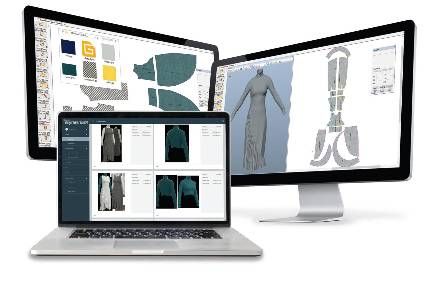 Digitalisation of the apparel industry has accelerated since the pandemic hit (Picture credit: Gerber Technology)
In the year since the Covid-19 pandemic began its spread across the world, the textile and apparel industry has undergone some monumental transformations that would previously have taken decades. One of which is the innovation and adoption of technology.
Where once investment in technology was seen as a nice-to-have, the pandemic has fundamentally shifted how companies operate, how they communicate and how they think about issues such as sustainability – making new tools a necessity if they are to continue operating effectively and manage the changes wrought upon them.
"We have seen a lot of changes with both retailers and manufacturers as a result of the pandemic," says Ram Sareen, CEO-founder of fashion technology provider Tukatech. "This was the 'kick in the rear' and wake-up call for the many that felt they were invincible. Companies needed to pivot and make changes to their pre-Covid-19 business models to sustain themselves through the pandemic and continue to do so once we come out of it. They needed to continue doing business with physical locations closed and employees working remotely."
3D design and prototyping, customisation, on-demand, microfactories, enhanced PLM, made-to-measure, and digital try-on are just some of the new innovations emerging to help speed up time-to-market, reduce costs and waste, and improve efficiency. Digitalisation, big data and analytics are all helping companies look beyond the crisis to secure a competitive advantage and forecast trends more accurately.
The pandemic effect
"Covid-19 has accelerated the adoption of new technologies across industries. This is especially evident in the apparel trade, which has traditionally relied on physical interactions," explains Vivek Ramachandran, CEO of Serai, HSBC's business-to-business apparel trade platform.
"The disruption of travel has forced a change in behaviours. Suppliers have had to find new ways to showcase their products and capabilities, and buyers have had to find new ways to connect with suppliers."
Indeed, one of the biggest impacts from the pandemic for businesses has been the lack of in-person meetings and travel, whether that be for trade shows or supplier meetings to discuss designs and orders.
"This has forced everyone to create and design new clothing lines completely virtually," says Brian Rainey, CEO of e-commerce tech company Gooten. "In parallel, there has been a shift to more purchases via e-commerce than in-store, and a growing consumer trend for customised apparel. The trend in customisation stems also from Covid in that the world of gift-giving has shifted from in-person live experiences like concerts and dinners to personalised/customised gifts that are more meaningful."
Emerging technologies
Artificial Intelligence and 3D modelling technology, in particular, have risen in popularity, allowing suppliers to offer digital samples and set up virtual showrooms.
"I don't see a world where tens of thousands of people travel across the globe for a two-day trade show returning any time soon," says Serai's Ramachandran. He also points to new technology-led solutions particularly in the space of supply chain transparency.
"Consumers want to know where their products are made, and new regulations require brands to demonstrate they are not working with certain suppliers or geographies."
Serai recently launched a solution that allows businesses to trace order flow throughout the supply chain, establishing the cotton and yarn going into each garment piece. This is designed to help businesses map upstream suppliers and track environmental, sustainability and governance (ESG) commitments.
With so much uncertainty still surrounding how the industry will manage through the pandemic and beyond, specialists like Gerber Technology have been ramping up innovation. 
A recent expansion of its Shanghai Innovation Center in China has seen the introduction new innovations for both mass production and on-demand manufacturing, including the launch of its Atria Digital Cutter. The recently upgraded space features a full made-to-measure workflow that turns orders into final products in less than one hour, complete with TG3D's body scanning technology, the AccuMark and AccuNest software, and Gerber's vision-based single-ply cutters.
The 3D evolution
Yet for all the technologies developed in the last year, 3D tools appear to have picked up the most pace, evolving design technology to offer a solution to help companies now working remotely.
"In the beginning it took many years to make people trust 3D so that it can become a substitute to what they know," explains Avihay Feld, co-founder and CEO of software specialist Browzwear. "Now it's not only about trusting 3D to be able to do something but moving more and more portions of the workflow into 3D. In the beginning it was just garment creation and testing the fit, now it's design and selling.
"And it's about scaling up. How do you scale up a whole organisation, a whole industry? How do you scale up people to change management from what they were used to, to a completely new workflow. It's not an easy task, it's a journey, but now with understanding, and Covid being a real boost, it's growing and scaling, not only in categories within the companies we work with but it's also about on-boarding your vendors and the suppliers of the materials and trims."
Feld says that many of the companies depending on physical samples were caught off-guard when the pandemic hit and factories went into lockdown in China.
"Immediately no production, not even production of samples, which meant the entire decision-making process based on those samples was cut in the middle. Those who already had a 3D workflow could continue to work and make their decisions based on 3D design. People realised that not only is this the only alternative when you don't have the physical samples you are so reliant on, but that it's actually quite good. Now they want to go 100% digital."
Investments in technologies for 3D modelling and digital sampling are all contributing to faster and more effective decisions, less fabric waste, and a smaller carbon footprint.
H&M's Berlin-based innovation lab recently developed technology based on a 3D photogrammetry scanner developed by NeXR. The virtual fitting solution will enable customers to try out clothing on their own individual avatars. A prototype is expected to be available for summer 2021 in select German stores.
With 3D now having to take the place of physical samples in many cases, fashion technology provider Tukatech last year introduced what it called "the first feel factor value for fabrics" based on a mathematical calculation using bend and surface friction values in all warp, weft and shear directions. The feature is designed to help 3D product design relate to fabric feel without the need for a physical sample, which can delay the development process.
"Most companies are developing the look first, so we needed to give them something to help get design approvals through quickly," says Tukatech's Sareen. "3D sampling can take a long time, so we introduced 3D assets to help speed up the process.
"Retailers and manufacturers both need to adopt 3D design and fit software if they haven't already. Even before the pandemic, 3D was becoming a more crucial software to combat shorter lead times and more SKUs within a global supply chain. Companies which already had 3D fashion design software merely had to figure out the transition to working from home."
A learning curve
While the broader impact of the pandemic is nothing short of catastrophic, Serai's Ramachandran believes the one silver lining is the change in mindset and the adoption of new technology-led solutions.
"If there's anything the pandemic has taught businesses, it's the need to be agile and to constantly innovate. Technology has never been more important and it's imperative for businesses to keep up. Companies that try and stick to how things have always worked are unlikely to survive this crisis."
This is certainly true of companies still using outdated technology, according to Greg Moore, CEO of fit solutions specialist WAIR.
"We still work with some of the largest brands in the world that are passing around spreadsheets. While we have this desire to move towards digitalisation and we have the need to be nimble, the tools out there today provide that ability such that you can weather whatever storms are coming up. Those are challenges that have been swept under the rug in the past two decades. We are seeing a lot of adaptation towards that."
The pandemic certainly exposed a country's dependence on imports, but it has also shown the industry's abilities to meet the challenge, with personal protective equipment (PPE) a great examples. Tukatech's Sareen believes that for the US in particular, 'Made in America' could benefit, with the right technology in place.
"Many fashion businesses want to be made in the USA, however there is a notable skills gap because of decades of offshoring manufacturing. Simplified digital design tools bridge the gap so that the technical skills required are not so intimidating.
"Microfactories are a great option for domestic manufacturing because they allow for the production of goods only after they have been sold. This is the biggest advantage to fashion technology: new tools allow for complete paradigm shifts."
Ensuring a green future
There was always a risk that sustainability might take a back seat during the pandemic, but innovation in this area has not slowed down. New technologies are also emerging to help cut waste, energy, and improve traceability, amongst others.
"The reality is that lack of sustainability doesn't just stop at sampling, it carries on to inventory," says WAIR's Moore. "If you take waste from the design side and you accelerate on the inventory side…you take it a next step further and you look at all the returns in the industry and the reverse logistics costs and emissions…there's a reason why the apparel industry is the number two most wasteful industry in the world. These processes are not needed.
"There are tools out there that allow for all of this to just go away and it takes the adoption of the circular workflows to allow that to become a reality."
Fast-tracking to the future
The uncertainty around whether factories and businesses will recover, if sustainability can return to the top of company agendas, and whether the pace of change will continue, may all depend on what technologies are developed and adopted.
Gooten's Rainey believes the industry has been struggling to stay up to speed with all of the new consumer requirements the pandemic has dumped on it.
"We have seen a significant uptick in our growth supporting the apparel industry by bringing on-demand manufacturing to support their supply chains and provide them the new functionality to customise apparel. I think you will need more new technology for the design/product planning side of the industry to enable 'digital twins' to better mirror the physical world just through your screen."
Indeed, being able to create a style in a completely true to life manner, or a 'digital twin' of the item to be manufactured, helps not only with production but makes it appear as a real garment, as if it was photographed on a person.
"There are already ways to do this today," says Browzwear's Avihay. "Eventually, a person will be able to scan, and their body will become 3D and they can try on garments. They will need to have some sort of 3D garment on their computer or smart mirror when they stand in front of it and see themselves dressing garments digitally and then they can buy it.
"If you fast-forward two years down the line, we will have smart factories that can make garments on the spot, so that person will not have to wait long to get it shipped. This is how we imagine the future and it's really not science fiction. The technology is already there; it needs to be made into a holistic workflow all the way down from the consumer to the manufacturer."
But where 3D is concerned, while digital samples are growing in popularity for brands and manufacturers wanting a more efficient process, there is no escaping the desire to want to physically touch materials.
Yazan Malkosh, founder and CEO of digital materials platform Swatchbook, believes there is a solution to this problem.
"Material experience has been lacking for a long time for a variety of reasons. I don't think Covid broke everything but it accelerated and amplified what wasn't broken. The future, the way that you look at materials, digital becomes the focus.
"Most designers know what it feels like if they see it visually. If a consumer can do it, a designer is better suited to do it. We buy stuff online all the time. Worst case, I'll return it. Designers have experience, they've touched these materials, it's part of their education so I do think in the future the material experience is going to be different. If I need to touch and feel it, maybe I look at one [sample colour] instead of 50."
Technology could also have a positive impact on bricks-and-mortar shopping, according to retail technology business NearSt.
"Overnight, technology has shifted how we all think about finding products in our local shops," says co-founder Nick Brackenbury. "During the March lockdown we saw a 7x increase in local product searches followed by a 9x increase in the second lockdown; people checking in-store product availability in places like Google before visiting a store.
"For high street fashion retailers this presents a real opportunity to capture customers who are already looking online and bring them in-store. It allows a retailer to offer the ease and convenience of browsing online with the unique experience of shopping in-store. In the near future we expect to see people going online to shop locally really take off."
The technologies now emerging have the ability to turn the apparel industry on its head. But with all of this comes the need to upskill the workforce for the future.
"The business of designing is in the mud, it's wading, it's back and forth," says WAIR's Moore. "The reality is, when we actually look at the downtime the designers and the factories have, being able to put that workforce towards a more efficient workflow, you're increasing the effective work time of your employees by 50% or more. Automation is real. It is a real part of life, it's going to happen and the reality is, outside of Covid it has generally kept employment in check by upskilling our workforce.
"This is not new to the fashion industry. It's an obligation; we have to make sure our employees are well skilled for the future. If we shirk that responsibility then we leave an entire generation behind that are very skilled. It's important to put things into perspective. We are not necessarily in a vacuum in the fashion industry. These are things every industry is, or has, gone through. Everyone is invested in it, it's time for us to step up the game. It's a commitment we need to make to the future."
A wider series of articles appears in the latest issue of just-style magazine looking at 'Redefining the apparel industry for the future.' It's free to view, and you can click here to read more.