'People eat it every morning': Business at Byron's Smokehouse took off when they added breakfast
'People eat it every morning': Business at Byron's Smokehouse took off when they added breakfast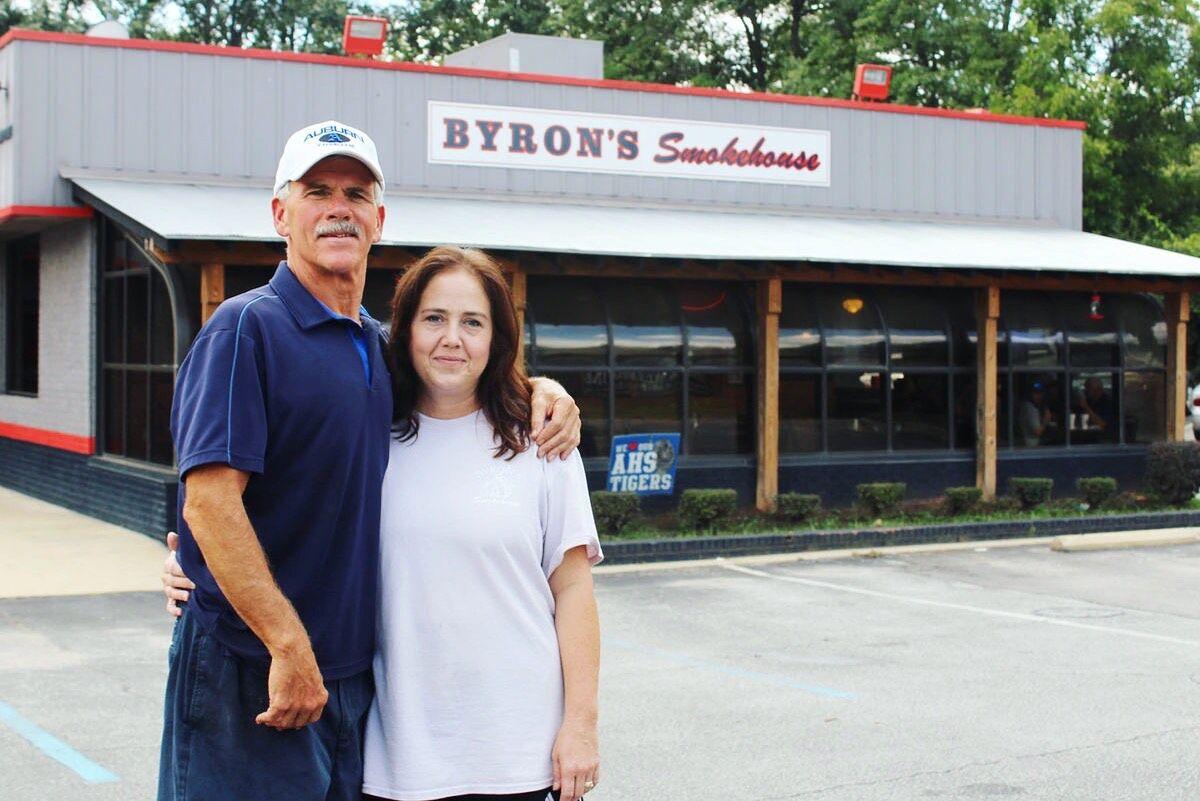 By ABBEY CRANK
Saturday mornings on the Plains wouldn't be the same without Byron's Smokehouse and their legendary grits.
Over 32 years ago, Glen Gulledge had an idea to start whipping up barbeque for a living. After about a decade of only serving barbecue, Gulledge had an idea to open his doors for breakfast.
"I noticed right off the bat there was a lot of competition in the restaurant business and none in the breakfast business," Gulledge said. "I thought we had plenty of room that we could really do breakfast right. … I thought we could be good at something nobody else wants to do."
Byron's Smokehouse is located at 436 Opelika Road and serving its meats and sides from 6 a.m. to 3 p.m. every Tuesday through Saturday.
From breakfast plates to pounds of ribs, customers love the low prices for high-quality meals. For $4.95, you can get two eggs cooked any way you want, a choice of meat, grits or fried potatoes and a biscuit or piece of toast. This is the priciest thing you can get for a Byron's breakfast.
Byron's sausages are even smoked outside every morning with the rest of the meat. As for his bacon, Gulledge fries it inside.
"We're a barbecue place, so I don't want to have any bad meat," Gulledge said talking about his bacon and sausage. "Whatever we get, I want it to be good."
The smokehouse also offers catering for events and tailgating. Meat can be bought by the pound and side orders by the gallon. 
With Auburn back in full swing, Gulledge is happy for his normal work days to continue.
By 3 a.m., he is already at the smokehouse preparing his meats. While it is hard work, Gulledge said he wouldn't have it any other way. His wife Stephanie and entire family help out when they can.
He still remembers when his daughter wanted to work at the smokehouse from a very young age.
"We used to put a can of beans on the floor so she could reach the cash register," he said.
Now customers see his granddaughter running around the store with a specially made Byron's Smokehouse apron.
Besides family, the main thing that keeps him going is his strong relationships with his customers.
"You get to know these people, especially the breakfast side of it. The thing about breakfast is that people eat it every morning," he said. "There are some people that are here every single morning. If this was just a barbecue, they'd only come here once or twice a week."
With Auburn football season back at full capacity, Gulledge had a message for every fan making their way to Jordan-Hare.
"They're all welcome here. We stay at it pretty hard. Just come on in," he said.
For more information, call at 334-887-9981 to schedule an order.
Subscribe to our Daily Headlines newsletter.