Watch now: Clothing, shoes, tools and an evolving business model for Gempler's in Mount Horeb
Watch now: Clothing, shoes, tools and an evolving business model for Gempler's in Mount Horeb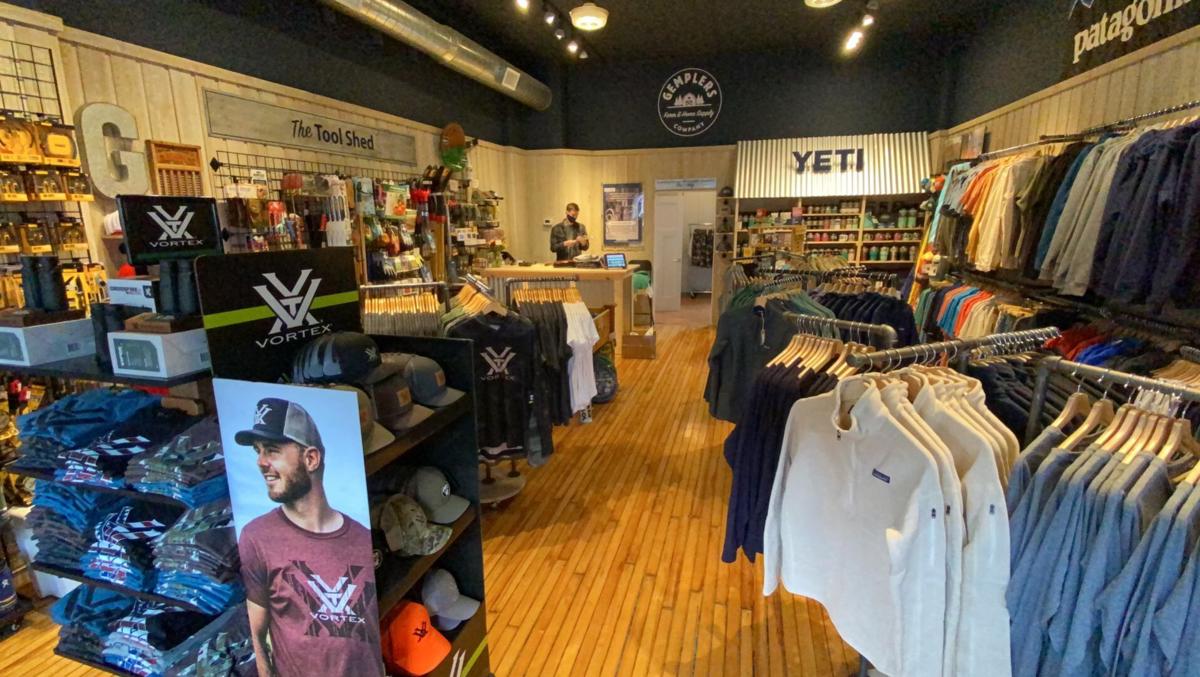 MOUNT HOREB — Carl Atwell's vision was to create a general store.
Gempler's, in the heart of this village's downtown, offers up sundry gardening gloves, packets of seeds, shovels and glass containers stocked with hard candy.
There are work boots, watering cans and a room stuffed with Carhartt jackets and overhauls. The more contemporary offerings include Yeti coolers, Patagonia outdoor wear, shoes from Keen, Columbia and Timberland, and binoculars from Vortex Optics in nearby Barneveld.
Gempler's isn't new to the retail landscape. It predates the vintage, mechanical soda machine in the store that dispenses glass bottles of cold Coca-Cola for a dime.
The company's nomadic journey, however, has led it back to Mount Horeb. This is where a sales floor in an old opera house building is helping Atwell, who purchased the company in 2019, redefine and evolve the business that for over the past 35 years has relied primarily on printed catalogs to advertise and sell its diverse inventory to customers around the country.
"This is main street America and there's foot traffic, and it represents who our customer is," Atwell said. "We can learn from them and build the brand."
Gempler's target audience is those who enjoy working outdoors at home and on the farm. The company's 30,000 or so products can include safety equipment like glasses, ear protection, gloves and aprons. There are watering and irrigation supplies, axes, machetes and knives. Backpacks are sold that hold propane tanks for those doing controlled burns.
The company sells sprayers to apply herbicides and pesticides; has live traps and snake repellent; hand and power tools from DeWalt and accessories like canopies, hitches and towing equipment for tractors and other vehicles. Hunting blinds, camping equipment and pet supplies can also be found. Clothing and footwear are big sellers.
But over the last two years, Atwell has scaled back catalog production and is trying to focus more attention to the company's website.
He's noncommittal when asked if he has plans for more stores like that of Duluth Trading Co. that has its $20 million corporate headquarters around the corner and its flagship retail store down the street that opened in 2010. Duluth, which earlier this month named Samuel Sato as its new president and CEO, now has over 60 stores around the country.
"It's too early for that type of discussion," Atwell said. "I don't know the answer to that. I mean we're happy with what we're doing right now."
When Atwell purchased Gempler's, it was printing a catalog each month, a process that was consuming 80% of the company's advertising budget and considerable time by his staff. Gempler's now produces one main catalog a year with supplemental catalogs as needed.
About 70% of the company's orders are placed through its website with the remainder placed over the phone. Call center employees have been working from home since the start of the pandemic and Atwell said that is likely to continue even after restrictions are lifted. Sales were sluggish in 2019 as the company underwent its transition but in 2020, sales increased by 25%. March through June is considered peak season for the company.
Gempler's has 15 employees who work at its headquarters above the post office, a block to the west of the new 1,600-square-foot store that employs nine people, including Atwell's three daughters.
But the nerve center of the company is located in a 120,000-square-foot building in Janesville that holds Gempler's distribution center and 50 employees. That's where Atwell worked for three months in 2020 after his office was closed due to the pandemic. Atwell did just about every job in the facility.
"To learn the business from a totally different perspective has benefited me greatly. It was literally the best three months of my career," Atwell said. "People want to support businesses that are independent and local that have a story. That was true before the pandemic but I think that's even more true now."
Roots in Monroe
Gempler's traces its roots to Monroe, where in the summer of 1939, William Gempler, a former Limburger cheesemaker, converted a former barbershop into a Goodyear tire center. The company expanded over the years and in the early 1970s had a facility on the outskirts of Monroe with six service bays, a showroom and warehouse.
A truck that traveled out to farms to repair tires was added in 1981. But in 1984, Steve Schlecht purchased the company in the midst of a farm crisis and began selling tire repair tools to farmers through a 12-page catalog.
Over the years, the inventory grew to include footwear, hard-to-find agricultural safety products and work wear. The 1990s saw the addition of pest management supplies and horticulture tools while the catalog ballooned to hundreds of pages.
Gempler's outgrew its Mount Horeb facilities and moved to Belleville in 1997. Three years later, Schlecht purchased Duluth Trading Co. that had been founded in Duluth, Minnesota, in 1993. But in 2003, in an effort to concentrate on the growing Duluth business, Schlecht sold Gempler's to Janesville-based Lab Safety Supply before it was acquired by Ariens in 2014.
'A great mix'
Ariens, a maker of lawn and garden equipment, sold Gempler's in January 2019 to Atwell and his family and a few friends.
"It's such an interesting story," said Rowan Childs, Mount Horeb's economic development director. "I do wonder what else could be complementary to Gempler's and Duluth because now you have people coming specifically to go to one or both of those stores. I think we have such a great mix of other stores here that I feel like there's a store for everyone."
The more recent additions to the downtown include Sugar Troll, a candy and Gelato shop opened by the owners of Grump Troll, while there is hope for a new tenant for the Schubert's Café space, which been closed for over a year.
Next to the shuttered café, Janelle Holstrom purchased Isaac's Antiques. She has given it a thorough cleaning and is looking for a tenant for a 3,200-square-foot second floor space that includes high ceilings and hardwood floors. Next door to the antique shop, Holstrom has opened Jangle Soapworks to sell her line of goat milk soaps, body butters and deodorants.
Guests welcome
Gempler's is located in a space that for years was home to Artisan Woods, until it closed last year.
"Carl's amazing. It's been real exciting to have these new places," Holstrom said. "Service industries are important but we have a two-block main street. And if we want tourists we need doors for them to walk into."
Atwell is a former Lands' End executive who spent 11 years in the Dodgeville company's business outfitters division. The Verona native studied English and philosophy at St. Norbert College in De Pere and earned his MBA at the University of Kansas. His first job out of college was at Graber Products (now Saris) where he was mentored by owner Chris Fortune before spending nine years with Sprint Wireless in Kansas City, Missouri.
"I swear I've learned more in the last few years than I did in 10 years of corporate America. You're forced to figure things out," Atwell said. "Obviously I'm a competitive person and I want our business to do well, but if this village continues to become a place where people want to be, we'll all benefit from it."
Photos: Gempler's in Mount Horeb
Gempler's
Gempler's
Gempler's
Gempler's
Gempler's
Gempler's
Gempler's
Gempler's
Gempler's
Gempler's
Gempler's
Gempler's
Gempler's
Gempler's
Gempler's
Gempler's
Gempler's
Gempler's
Gempler's
Gempler's
Gempler's
Gempler's
Gempler's